So it's over
But not so over. What we saw at the very end, I hope it's not a troll act but something so mean like Gundam 00 first season's ending.
I'd like to have a movie, maybe two movies to sum things up, because we had like too many loose ends.
Something I expected but got too shocked when watched it was Makiin's (Makishima) death. He died smiling as I imagined he would... it broke my heart. All he wanted is to wake up the society and reset it. He wanted the old world to come back to exist so he doesn't live and die unnoticed. He was like the loneliest character I ever seen. Many might say that he should have done it the right way and join the MWPSB then change the system from inside. I'm sure that he thought about it and realized that during his life time he won't be able to achieve his goal, so he searched for a shortcut, that's why he ended up taking the path of blood. After all, many great changes happened because of chaotic revolutions.
So sad that he couldn't see the end of Sibyl.
Kogami shot Makiin for revenge and nothing else. He wasn't trying to protect anything, he wasn't even thinking about the society, maybe he said so, but he said it just to justify his actions. Yeah he understood Makiin the best and he knew what he wished for, but he just couldn't forget his buddy who died years ago. I hate the irrational Kogami. The book he was reading at the end of the episode "Swann's Way" is one of seven books making up a novel that's called "In Search of Lost Time" or "Remembrance of Things Past"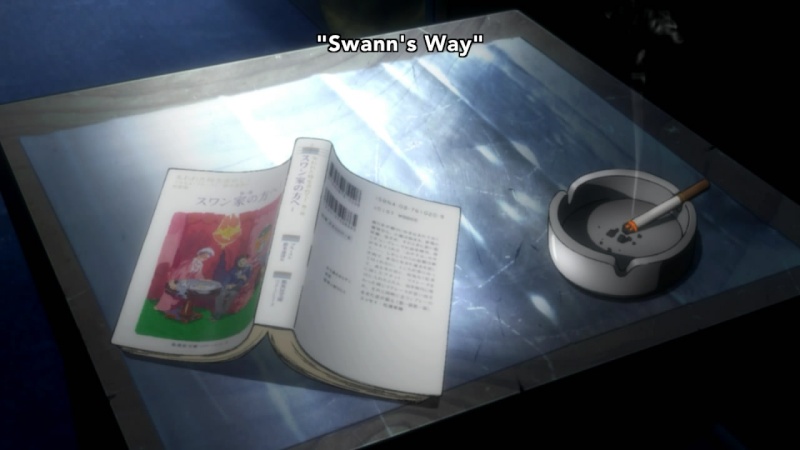 So I had three thoughts:
Either Kogami hadn't get over his past yet.
Or he wanted to go back to a specific point in time.
Or he wanted to see Makishima's dream come true. Like atoning for killing him for revenge. He thought about finishing of Sibyl system and reset the society.
For Akane-chan, I bet she thought that Makiin can be a good assist in changing the system and bringing Sibyl down; that's why she wanted to keep him alive. Maybe she wanted to help him too so Sibyl would come down by the hands of the person it feared the most.
If a second season would be made, then maybe Akane's unit would go against Sibyl on their own. She and her army of dogs who got misjudged by Sibyl. And this time, Kogami will fall dead.
Personally I think a movie would be more than enough to cover all of that.
BUT I want someone like Makishima to appear, maybe a genius that will make Sibyl go nuts just by chatting with it logically.
Makishima was a hero. He was never a bad guy in this anime. He gave other characters, specially the MSWB unit 1, something to devote themselves for, he showed them how to protect the society they work for.



Posts

: 10


Reputation

: 0


Join date

: 2012-03-27


Age

: 30


Location

: Here



generally speaking i lose my focus on long posts but i will try my best to be rational.
well 1st of all it's quite ironic what happened at the end of the story, the 4 eyes ended up as a subordinate to the girl whom he once was her
senpai(he even scolded sometimes) just 2 months ago, and what's more she actually said something like "it's my duty to accompany an enforcer when the go out"!!! talk about superiority 3:)
btw he was said to get something like A+ on all subjects on the 1st few episodes like tsunormi so i wonder why he doesn't posses any real talent when it comes to his actual job?
back to the topic at hand.
i agree with u, i would like a 2nd season so it would save me the trouble of looking for a good animes again =D
also cause i want to know what of kagari? he wasn't really in the picture till nor were the others except for the old man perhaps, but i still miss him, he was the lool guy after all. that said i didn't like the laugh the sibyl guys had
at what tsunueri said and now i really wish to see them destoryed :@
next is makshima's death. i don't understand, he could've escaped if he really wanted, but we didn't quite see that, also for his line about only could be kogami killing him, he should've been defeated by the old man earlier no matter how i looked at it, but it's anime logic for u( no point in getting worked up about it).
"He wanted the old world to come back to exist so he doesn't live and die unnoticed." well here i agree with kogami, he's just like a child who can't endure solitude. but even assuming that, makshima killing actions aren't justified for ex why did he kill the professor guy, he could've just decieved him if he wanted i.e he wasn't say after polictcs or sibyl speakers or whatever, he just killed normal people who had no thing to do with the system like tsunemeri friend.
not only that maki killed, decieved and even worse led many towards being criminals just so he could test whatever he wanted on them like that extremely cruel girl was just a normal student until she met him, and then threw them away and there's an implicit point here if u know what i mean.

also for the change system from inside, that's suzaku way of doing things and we know how it ended, being treated like a traitor in the end. smarter people like lelu do it the right way 3:)
"Kogami shot Makiin for revenge and nothing else". come on u watched zetsuen no tempest right? u can't simply forgive someone for killing ur friend, according to mahrio this is righting the wrong of maki being alive despite having killed others, so it only make sense that way. now going by logic, what need is there for maki if he's just a copy of kogami that just looks diff?? that said, u really wanted maki to get turned into 1 of those ugly things?? it's good thins turned that way.
at the end of the episode things were quit ironic yet again with akane saying the exact opposite of words she'd heard
from the 4 eyes dude.
as for kogami, it's not like he's been cleared form death penalty, so as soon as he's found, death awaits him. most likely he would come to protect some1 then get killed. i know nothing about novels as u know so i can't dedue anything from the book kogami was reading.
as for 2nd season, well just want sibyl send to hell, kagari back, 4 eyes actually being useful and jorumangand like fight scenes, cause i hate crimes & killings like the 1 the cruel girl did.
i probably lost logic somewhere before give how long this comment is, not to mention i am about to sleep, but i hope i my words made some sense.



Posts

: 2


Reputation

: 0


Join date

: 2013-03-04



btw, how do i know if u responded to my comment? is it like FB or what cause i never really worked with forums before, it would be nice if u would explain things briefly on the FAQ.



Posts

: 2


Reputation

: 0


Join date

: 2013-03-04





Similar topics
---
Permissions in this forum:
You
cannot
reply to topics in this forum